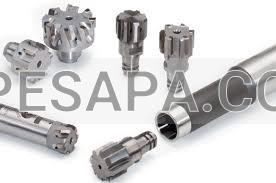 Reaming is the process of making regular and precise holes. Electrification may be done by hand, machine tools, or drills. The holes created by the drill do not have a certain tolerance, nor are they smooth and polished, so it is necessary to perform a new operation that can obtain the necessary specifications. The saw can be called a rotating cutting tool. Because this tool has one or more cutting edges that can be used to make the holes to the actual size. The electrodes are usually made of tool steel or high-speed steel, the edges of the electrodes are plated with different types, then the winning edge is sharpened with a stone machine.
Types of electricity:
A) Manual electric: 1. Simple electric 2. Spiral electric 3. Conical electric 4. Variable electric (abdominal-knife)
B) Machine electrodes: In terms of fixed and variable form, they are the same as manual electrodes.
Manual spiral electrode: To electrify holes that have grooves or grooves, helical electrodes with a twist angle of about 25 degrees are used.
Cone screws: for electroplating holes where the cone pins are inserted.
For conical holes greater than 1:10, we use a triple cone electrode (rough, pre-electro), polished electro.
To machine the dead-end holes, use machine electrodes that have a rectangular end.
Never turn the switch clockwise, even when pulling the switch out of the hole.
Use coolant in electrical work.
Avoid shrinking the pleats for any reason.
To electrify uneven holes, first use a preheater.
Cutting speed in electroplating is cutting speed in drilling hole.
The speed of progress in electro work is faster than the speed of progress in drilling.
In general, electrodes consist of two main parts, which are: the main body of the electrode and the tail, which may be a conical or cylindrical tail. To guide the electrode into the head hole, it is tapered. The length of the conical head, called the lead, varies in the brackets. There are some things to keep in mind when using an electric grinder to make sure the holes are properly seated.
In general, the types of electricity are:
Diamond power supply
Open the switch
Adjustable switch
Hollow power supply
Electric barrier
Cucumber electricity
Manual switch
Trailing lightning
Electrical opener
Machine power
Open machine electric
Cucumber machine electrician
Heavy machine power
Petal machine electrifier
Cone
Morse Cone Screwdriver